Friday, March 31, 2006
Stockcoach Reports Strong First Quarter Results


Quarterly earnings increase 329 percent to $98,486

Shareholders' equity increases 77 percent to $700,729

Stockcoach today announced earnings for the first quarter of 2006. The aggregate value of Stockcoach's portfolio increased by $98,486 in the first quarter to $700,729, reaching a new all-time high. This represents a 329 percent increase in earnings compared to the first quarter of 2005. Shareholders' equity (I'm the only shareholder! HA!!) increased by 77 percent to $700,729, inclusive of a $25,000 cash deposit made in July 2005. There were no cash deposits or withdrawals in the first quarter of 2006.

"I would like to congratulate myself on yet another successful quarter," said Mr. Stockcoach, President, CEO, Treasurer, chauffeur, janitor, etc. of Stockcoach, Inc. "My portfolio has outperformed the S&P 500 19 of the last 20 months by an average of 4.4 percent per month." Mr. Stockcoach continued, "while these results reaffirm my belief in the superiority of small cap value investing, it should be noted that this quarter's results were favorably impacted by the overall strength of the market, especially among small capitalization stocks. Consequently, I do not expect that the exceptionally strong performance observed in the first quarter of 2006 to be maintained during the remainder of the year".

Wednesday, March 29, 2006
The Russel keeps it up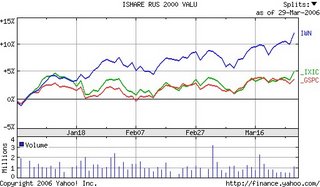 Up 1.0 percent today. Wasn't this supposed to be the year that large caps finally outperformed? Guess not. The Russel 2000 is up about 13 percent for the year, handily trouncing the S&P 500. Not bad considering it's only March.
Tuesday, March 28, 2006
In the red so far
Not much to report on, really. My portfolio was down 0.6 percent yesterday and another 0.1 percent today. Not a good way to start the week, I know, but such is the reality of the stock market. Hopefully things will improve in the remainder of the week.

Saturday, March 25, 2006
Weekly Summary
This week had plenty of high points and low points. I made an astonishingly bad decision to short ELOY (although not quite as bad as my decision to short GOOG at $119 shortly after the company went public). I also left some profits on the table by having half my MFRI shares yanked away from me when I wasn't looking. On the other hand, several of my biggest positions did well: VTEK jumped to a new 52 week high (I think the stock is still warming up), PCTI climbed nicely, as did MNDO (my biggest holding). All in all, it was a sucessful week, with my portfolio gaining $16,228 (2.4 percent), outperforming the S&P 500 (down 0.3 percent), the NASDAQ (up 0.3 percent), and the Russell 2000 (up 1.0 percent).

Thursday, March 23, 2006
Annoyance
Of all my pet peeves about the stock market, probably my biggest is companies that release important news during trading hours. Usually there is no need for this since most of the time the news can wait until the market is closed. It completely screws the little guy who on the one hand, needs to use limit orders to avoid being robbed blind by market makers, and on the other hand, can't sit in front of the computer all day watching the news feeder. MFRI is a case in point. They released news about a new contract at around 10 in the morning. The stock immediately surged, taking out my 1000 share sell limit order at $8.25. By the time I got my Ameritrade order confirmation email, it was too late: the stock had moved to nearly $9. I sold my other 1000 shares at $9.39 but I lost a bundle on the first lot. Why doesn't the SEC forbid companies from releasing material news during trading hours if they can do it before the bell? Anyway, aside from that, it was a solid day for my portfolio: up 0.8 percent.
Wednesday, March 22, 2006
CKSW for a trade
Up 0.1 percent today. CKSW, a stock on my watch list, reported news of a big new contract win early this morning. Rather surprisingly, my limit order to buy 5000 shares at $1.51 was filled in mid-morning. This stock isn't cheap enough for me to want to make it into a long-term holding, but hopefully it will be able to maintain some upward momentum to make it a profitable short-term trade. One way or another, I probably won't hold this one from more than a week or two.

Tuesday, March 21, 2006
A Big U for the Quadruple Q
First the market was down, then it was up, and then it was down. And down big. This market is enough to give me a headache. Well, at least ELOY held up, gaining 5 percent for day, not bad considering the market lost 1 percent. Oh wait, I'm short ELOY. Scratch that thought. Ah, actually it wasn't that bad. My portfolio lost 0.2 percent. MFRI helped me out. Could have been worse I suppose.

Monday, March 20, 2006
Shorting Disloyalty
A solid day today as my portfolio gained 0.5 percent. For the first time in a very long time I have added a short position: Eloyalty (or Disloyalty as I like to call them in jest since my own loyalty towards the stock has turned 180 degrees). You see, I owned ELOY a few years ago back when the stock was trading in the mid-3s. I rode the stock up to about $6 and then sold. However, if you ask me, the company's fundamentals were better back then (certainly they had a lot more cash on their balance sheet). Yet, despite consistently losing money, the company's stock has moved up sharply. Now that the stock is starting to weaken, I figure this is a good time to pile on. Aside from TZOO, my experience with shorting has not been particularly good, so this will be a small position.

Saturday, March 18, 2006
Weekly Summary
It was a rather forgetable week for my portfolio. It gained $7,976 (1.2 percent), not bad on the surface, but not so hot when compared against the NASDAQ and S&P 500 (both up 2 percent) and the always irrepressible Russell 2000 (up 2.7 percent). Have a great weekend everybody!

Friday, March 17, 2006
It's hard to hussle like the Russell
My portfolio gained about 0.6 percent over the past two trading days. Although I've now recovered all my losses from last week, it's proving extremely difficult to keep up with Russell 2000, which is up over 10 percent year to date. Today may prove to be a tough day for the ol' portfolio as OCCF is down in the pre-market, after reporting lousy earnings. I was hoping OCCF would report good numbers so that the stock could be set afire like other fiber stocks. Oh well. Maybe I'll try to add to my position if the stock dips too much.

Tuesday, March 14, 2006
Stub stocks
Up 0.9 percent today. I sold my remaining shares of SMTX and APN. I had taken profits in both stocks in the past, so these were fairly small positions. Actually, that's a bit of an issue that I have with my portfolio. I tend to scale out of positions as the price of the stock increases. However, I often end up in situations where I have sold most of my shares and then the price falls but I still have a few shares remaining. These stocks (what I call "stub stocks") end up sitting in my portfolio. Some of them (like COBR and STRC) were once major positions, but now they reside in a purgatory in which they are either too cheap to sell or not cheap enough that I want to add to my position.

Monday, March 13, 2006
I wish I owned more SMTX
Down 0.1 percent today. SMTX reported good numbers are the close. I only had a few thousand shares left compared to the good ol' days when I owned over 20,000 shares (of course, back then, SMTX shares traded under $1). Anyway, I'll probably take my profits tomorrow since I think SMTX is about fairly valued between $2.50 and $3.00. MNDO is getting very cheap again. I'm increasing my position.

Tuesday, March 07, 2006
Is NYER going higher?
My portfolio was down 0.2 percent on Monday. I am hearing that Cramer has been hyping pharmacy stocks lately, even going as far as to recommend the "worst of breed" Rite-Aid. I am not sure if this bullish sentiment will spill over into small cap pharmacy names, but I think the potential is there. With that in mind, I picked up 3500 shares of NYER, a company that has been on my watch list for some time. NYER is a solid little company with a healthy balance sheet. The company is profitable, though only maginally so. However, with the recent prescription drug bill, there is certaintly scope for margins to increase and earnings to expand. At any rate, I figure there is enough upside in this stock to justify putting in my portfolio.

Saturday, March 04, 2006
Nice job, AIH
It was a reasonably successful week for my portfolio, which gained $4,449 (0.7 percent), on par with the NASDAQ, and outpacing the S&P 500 (down 0.2 percent) and the Russell 2000 (up 0.2 percent).

I noticed this morning (this evening, my time) that AIH, a stock that has been on my watch list for many months now, delivered another strong earnings report. I put in an order to buy 1000 shares at $8.71. My order was partially filled (700 shares). Hopefully the stock will continue to move higher.